How About a Betty Crocker Award?
When my children were growing up, we had a silly banter that would be bounced around the kitchen at dinner time. "Good Dinner Mom, you can keep your Betty Crocker award". Little did I or they know that there actually was a "Betty Crocker" award.
The award started sometime in the 1940′s or 50′s as far as I can tell and was actually awarded by General Mills.
I recently found a Betty Crocker Award Pin in a box of jewelry I purchased. I didn't think much about it until after Tom took pictures and I prepared to list it. I started to do some searching and came up with some sketchy information, mostly from some posts on Pinterest. I listed the pin in my shop on Etsy and was very pleasantly surprised when a fellow Etsian Laura Fisher, responded to my listing with the following information, (used here with her permission)
"I recognized this immediately. I was the Betty Crocker Family Leader of Tomorrow at my high school in 1975. I started high school in 1971 and that was the name of the award program then. Betty Crocker had changed the program to be more unisex and modern so this pin is much older than the 1970s. My award was a small silver charm with the hearth symbol on it.
High schools who want to participate give a test on a specific day to students who are interested. The highest score on the test wins for the school and some of those students go on to compete for scholarships. Although I was a winner from my school, I did not advance in the competition so I don't know anything about that.
At this point, I asked permission to use the information she had shared. "Of course it's OK! We learn about history through stories about things. I was a science and math student mostly and it was a shock when I won. I'm really proud of it actually. It was like an affirmation that I had a handle on living in the real world. The test questions weren't about perfect cakes. I remember being tested on home health and safety, personal finances and economics, home and possession maintenance and upkeep.
I felt almost guilty to beat the girls who took eight semester of home economics. There were two groups of us taking the test. The home eccies and the honor students trolling for every dime of scholarship money we could get. This was during a time when college funds were tough to come by and the Betty Crocker scholarship was one of the most prominent awards that was available. By 1975, when I took the test it was evenly divided between male and female students and home ec students were in minority of test takers.
I sometimes wear my charm as a necklace and still think it's one of the more interesting little known facts about me. And, hahaha, I sometimes threaten myself with revoking it when I do something stupid around the house.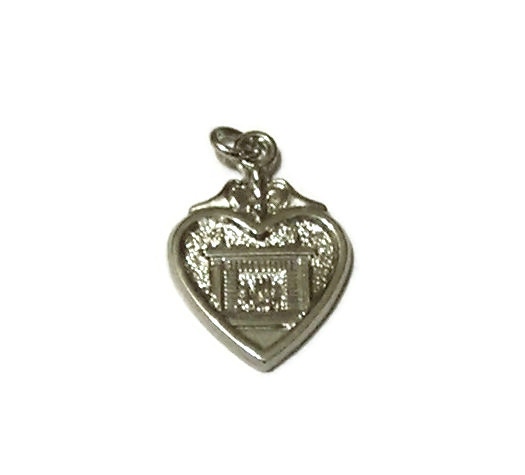 And…as I started to share earlier…"The Betty Crocker Award" is still prized by many recipients I'm sure. And, I still get a thrill when my 45 year old son says to me…"Mom, you get to keep your Betty Crocker Award"…
About the Author
Carolyn O'Bayley is one of the founders and administrators of Got Vintage Shops. She and her husband Tom have two wonderful shops:
COBAYLEY
their own stand alone site and
COBAYLEY on Etsy
True Vintage, Only Vintage, that's what COBAYLEY sells. Vintage jewelry,accessories,silver,vanity and dresser items, textiles, mid century modern, retro, fun, funky and all things old and interesting. We are adding new items almost daily. Stop by either shop to see what treasures you will find...